In the late 1990's a group of technically savvy professionals with management backgrounds saw the need for back-end construction engineering support services. Many of the trade schools in USA were closing down, or were focusing on more lucrative training areas such as IT. As a result, the construction trades started taking a back seat.
Equipped with a strong background in science, technology, engineering and management, Greenbrook Engineering stepped in to fill this emerging void. Since our formation, we have constantly strived to provide the best service to our customers.
In early 2000, we established a fully owned office in Bangalore, India, to allow us to remain competitive on a global scale.
Our recipe for success is simple. Focus on quality and deliver on time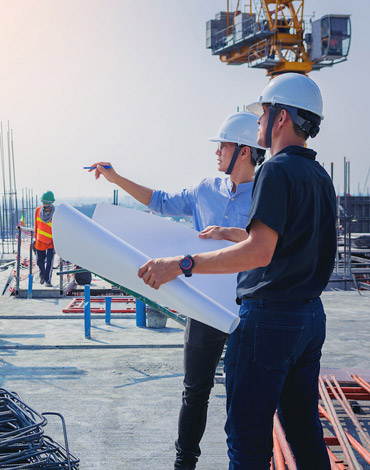 Greenbrook Engineering's customer satisfaction proves our success, as two-thirds of our business comes from existing customers. We understand that these companies have placed their confidence and trust in our abilities, thus we continuously strive to meet as well as exceed their expectations. Our consistency ensures that our customers' confidence never dwindles.
Our local presence in Phoenix, Arizona and Middlesex, New Jersey allows us to serve our customers more efficiently and expeditiously. Today, our team comprises of a highly energetic, intelligent and smart-working people. Greenbrook Engineering constantly provides professional training and motivation to this fantastic team.
We focus on the entire process of the project, concept through completion
We are a leading company, serving clients around the globe
Greenbrook Engineering has worked on a wide variety of projects. From large to small, complex to basic, our team of professionals is here to assist you with any and all steel and HVAC detailing and design-assist.
GREENBROOK ENGINEERING
We have extensive experience in steel detailing. We have over 500 projects under our belt, spanning nearly 2 decades. We utilize Tekla Structures (formerly called X-Steel) for our detailing and in the mid 2005, we made Tekla Structures our preferred choice of detailing software. Our projects span from 50 tons and above. The deliverable package includes connection design, structural and miscellaneous steel detailing, stairs and handrails. Whether it is an office building, industrial structure or a complex twisted piece of metal, we'll detail it. All of our drawings are customized to suit your shop requirements. Every type of electronic file is provided to run your production smoothly and efficiently.
CHAIRMAN
MUKUL MEHTA
Mukul Mehta is a business veteran of nearly 50 years. After having graduated from Indian Institute of Technology, Bombay, he went on to do his MBA and Ph. D from Wharton Business School, UPEN. Before embarking on an entrepreneurial drive he worked with Rohm and Haas Company, IPSE (middle Eastern Operations) for a few years. Today he has business interests in diversified fields – hospitality, healthcare, real estate, engineering etc. across different countries in addition to being a philanthropist. As chairman of Greenbrook Engineering he brings with him tremendous business experience, insistence on business ethics and business vision.
He was on the board of trustees of two major charitable foundations, called 'The Children's' Cancer Foundation (CCF) and the Bea Gaddy Foundation (BGF)'. CCF funds research in paediatric cancer and finances treatment for children with serious and rare types of cancer from all over the world. BGF owns and operates several homeless shelters, educational and training facilities for the under-privileged plus medical clinics. It also organizes and finances self-help groups.
He enjoys mentoring and sharing his vast knowledge with people around him.
PRESIDENT
MURLI BALU
Murli holds a Master's Degree, and is a seasoned international sales and marketing professional with a track record of over two decades in the engineering outsourcing services industry, including both nearshore and offshore venues. He has successfully setup offshore design and engineering teams for mid-sized companies. During his career, Murli has managed companies with top and bottom line responsibilities, including managing start-ups with an entrepreneurial spirit. Murli has managed relationships at the CXO level. He has held positions as VP of Sales, Director of the Vendor Management Office and Outsourcing Manager. He currently holds the responsibility of business development, new customer acquisition and general management of US operations.
MANAGING DIRECTOR
VASAN H.R.K
Vasan has a Master's degree in science and management with 4 decades of experience in delivering projects across the globe and business management. Starting off with delivering IT solutions, IT enabled solutions and consulting, he branched out to delivering engineering solutions 2 decades ago. He was probably the first to recognize the need for onsite-offshore model of service delivery in construction support services.
As a partner of GBE, he currently looks after the service delivery with the support of highly professional and experienced managers. His focus is currently more on process management, quality and mentoring the team members. He is well recognized in the detailing industry in India with quite a few of the senior members of the industry having honed their skills under him.
DIRECTOR, WESTERN REGION
DAN WOODWORTH
Dan has been in the steel fabrication industry since 1974. Starting out in a fabrication shop, Dan has held many positions including estimating, sales, detailing, project management and general management. With an educational background in architectural drafting, his current career path took shape when he was given the chance to work in the engineering department. The knowledge he acquired, allowed him to graduate from working in a small organization to running the fabrication shops of large, well-established steel fabricators. Since that time, Dan has helped fabricators and erectors in managerial positions overseeing every aspect of the fabrication business, including general management. Dan utilizes his extensive fabrication experience in his current position with GREENBROOK ENGINEERING to bring his understanding of the process and priorities of our customers and offers a higher quality of service to fabricators. Dan currently heads the sales and marketing effort for the western region.
BUSINESS DEVELOPMENT MANAGER
STEPHEN WARD
Stephen brings a wealth of experience from the steel fabrication industry. Starting with the Montague-Betts company, Steve has worked through many complex projects such as the Penn State Beaver Stadium where Stephen personally came up with a solution to a complex design that was not workable. He has worked with major steel fabrication and joist and deck companies on the east coast and delivered value to the customers. His vast experience has been built on never saying "it can't be done. Steve works on the business development for the eastern region.
OPERATIONS HEAD
SIBBY KURIAKOSE
Sibby Kuriakose has an engineering background and is the operational head of the GBE delivery center. He has over 20 years of experience in the IT industry. In his earlier assignment was managing large project delivery and support teams spanning across several countries. His primary focus is on delivery planning, process implementation & control, staffing and technology absorption. His strong project management capabilities are well recognized and are significantly contributing to the delivery of projects of all sizes, schedule requirements and complexities.
Roger O'Hara
Roger O'Hara has over 43 years of experience in the design, detailing, fabrication, and erection of structural steel.  Roger started as field engineer and progressed to project engineer, connection engineer, QA/QC manager, detailing manager, chief engineer, design-builder, sales manager, general manager, and corporate officer.  Projects have included high-rise towers, office buildings, hangars, convention centers, parking garages and medical facilities throughout the US, Western Pacific, and Asia.

Roger received his Bachelor's in Civil Engineering from Santa Clara University, is a registered professional engineer, and a past committee member for the American Institute of Steel Construction Code of Standard Practice. Away from work, Roger enjoys biking, hiking, fishing, boating, and wrestling with his 80 lb, Black Labrador grand dog Jameson.